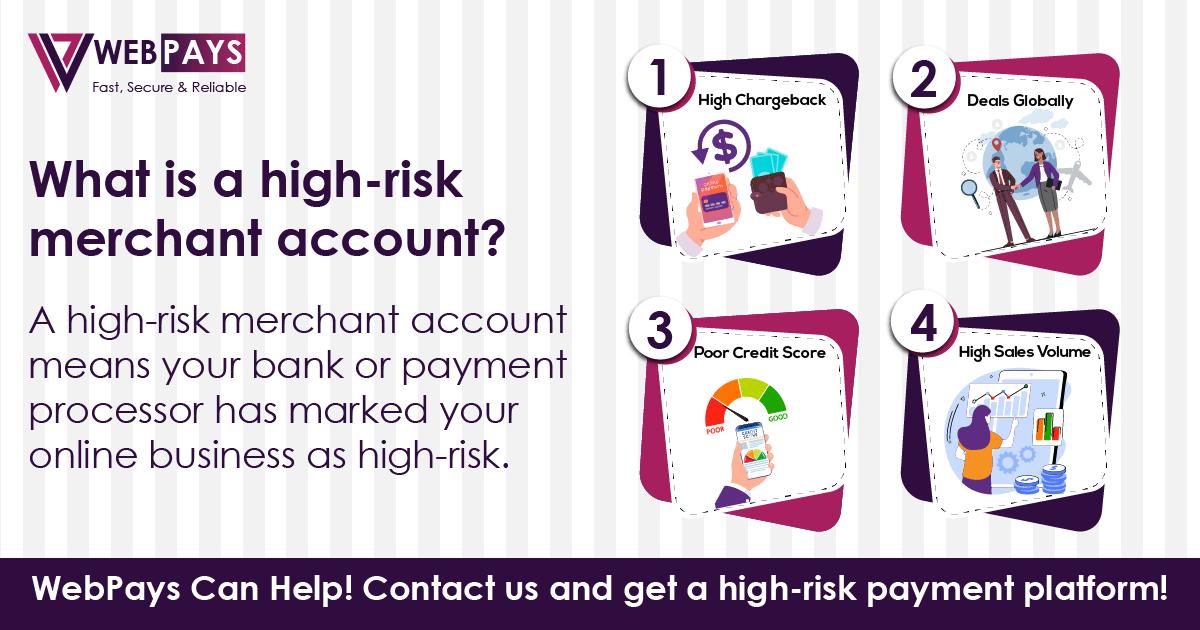 Are you running an online business that is regarded as high-risk due to its high-risk nature? Getting a high-risk merchant account is the most significant requirement for your business to start taking online payments. But before opting for a high-risk merchant account, you will need to understand all the aspects of the high-risk industry and its payment processing solutions. At WebPays, we have great expertise in serving high-risk businesses across the world. Whether you are facing various complications such as your industry type, credit score, or prior business history. Let's dive into the details.
What Is The Requirement For a High-Risk Merchant Account Solution?
If your online business falls in the high-risk category due to any reason, you will need a high-risk merchant account. Acquiring a high-risk merchant account solution is essential to facilitate your global customers to pay on your payment platform. Because without these payment processing solutions, you may face stuck funds or a terminated merchant account.
Most payment processors comprising Stripe, PayPal, and Square will deny delivering payment processing solutions if they find you are functioning in a highly restricted industry. Your business may also be considered high-risk due to some additional causes such as your business model, transaction history, or hidden financial details.
If it happens, customers will not be able to purchase your products and will probably shift to your competitor for buying goods and services. So, you just need to be ensured that you are connected with a company expert in securing high-risk merchant accounts and maintaining processing transactions. And we are providing stable high-risk merchant accounts to support merchants in all sorts of businesses and opportunities.
"Als je risico's neemt en ze werken, leiden ze tot nieuwe mogelijkheden die je nog nooit eerder hebt gezien."
What are the differences between high-risk and low-risk businesses?
Let us examine some primary differences between high-risk and low-risk businesses: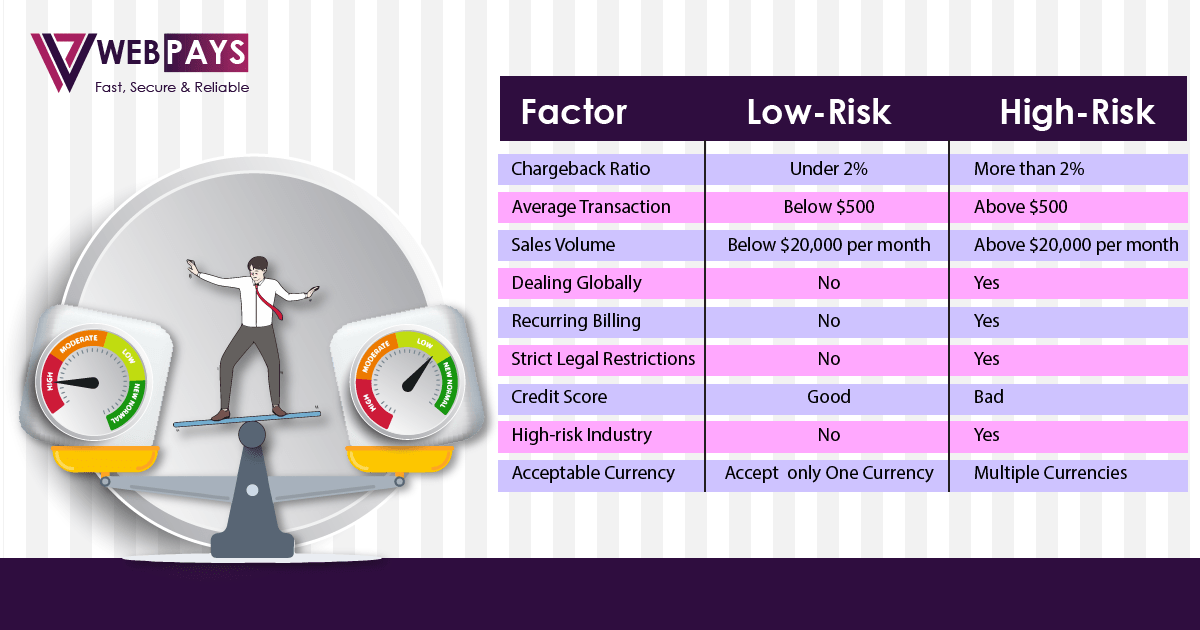 How Does A High-Risk Merchant Account Specify?
Banks and other payment processor companies may regard an online business as high-risk because of multiple reasons. However, WebPays think adequate merchants should be able to process online transactions on their payment platforms. Your online business may also be considered high-risk due to the following factors:
Poor credit history can affect your business in getting a merchant account solution because most banks and payment processors will be more conscious in serving high-risk businesses. However, most payment service providers analyze credit history to determine eligibility. Moreover, if your business has a poor credit history, you are more potential for high-risk payment gateway solutions.
Excessive Chargeback Volume
Any online business leads to losing the chances of getting a high-risk merchant account if the chargeback volume exceeds a specific limit. If you have an excessive chargeback volume, you will get your business involved in more high risk. It is a necessary aspect to determine the risk level of a business and that is why we undergo an underwriting procedure to analyze your online business's high-risk nature.
Refund prices can state a lot about your online business. So, if your online business leads to more refunds than the total revenue of a month. Then you will be considered high-risk because most banks and payment service providers like to notice a low refund ratio to ensure that you are operating a genuine business.
Subscription-based Transactions
Subscription-based payments are basically prone to excessive chargebacks. Because there are multiple annual and monthly subscription-based services. Sometimes people don't remember they are kept up to be billed unidentified, leading to more chargebacks for your online business.
Offering Trial-Based Services
Offering a free trial is common in most industries. However, most trial-based services require a card number to be paid at the end of the trial. Because of numerous subscriptions, people neglect these online transactions, and that can result in excessive chargebacks. Regardless of trial or subscription-based services, WebPays is still available to deliver secure payment processing platforms.
Some additional risk factors of a high-risk business
There are many other reasons that can make the requirement of a high-risk international merchant account more significant. These factors also comprise card-not-present transactions, selling high-ticket products, dealing globally, new in the business, or more than average transaction history. We deliver the best high-risk merchant account solutions because we are serving high-risk businesses for many years. And we are glad to function with merchants that are running their businesses in a high-risk environment.
Which industries come in the category of high-risk?
Above mentioned are the primary causes why a standard low-risk merchant can involve in high-risk. However, you can be an authentic merchant with an excellent credit score. Even if you will have a low chargeback volume but still regarded as high-risk due to your industry type.
Some industries are considered high-risk due to some stringent restrictions or being regarded as scandalous to the bank. If your business comes into the high-risk industry, then you will need to jump through more steps to get a high-risk merchant account solution.
To understand high-risk industries more deeply, we have gathered all the industries that come in the category of high-risk. Some common industries in the high-risk category list are as follows:
| | | |
| --- | --- | --- |
| Adult Websites | Airplane Merchants | Annual Contracts |
| Banned Goods and Services | Brokering | Business Opportunities |
| Cigarettes | Collection Agencies | Credit Protection |
| Dating Apps | Debt Collection Services | Drug Paraphernalia |
| E-Commerce Merchants | Escort Services | E-Cigarettes |
| Electronics | Fantasy Gaming | Furniture |
| Fantasy Sports | Forex Trading Merchants | Financial Advisors |
| Games | Health and Wellness Product | Horse Racing Bets |
| Igaming | IPTV | ISPs |
| Import and Exports | Live Games Betting | Lotteries |
| Medical Care Programs | Membership Based Companies | Money Transfer |
| Music or Movies apps | Mobile Gaming | Multi-Level Marketing (MLM) |
| Offshore Corporations | Online Gaming | Online Lottery |
| Online Casino | Online Gambling | Online Betting |
| Online Bingo | OTT | Other Online Business |
| Pawn Shop | Real State | Smart Phones Sale-Resale |
| Social Media Marketing (SMM) | Adult Toys | Social Gaming |
| Social Networking Sites | Sports Forecasting | Subscription Based Billing |
| Tech Support | Travel Companies | Tobacco Merchants |
| Vacation Planners | VoIP | Weapons |
| Pharmaceuticals | Pharmaceuticals | Firearms |
| CBD | Web Marketing | High-Ticket Products |
If you are functioning an online business in any above-mentioned industries, acquiring a reliable, reputed payment processing platform is essentially required. We also comprehend the issues that every high-risk industry experiences. However, our payment expert team has the most suitable payment processing services you are looking for.
Benefits that WebPays deliver with high-risk merchant account platforms
At WebPays, we comprehend the importance of acquiring payment processing platforms so you can trust our services. So, the facility of processing credit card payments online is essential for online businesses to execute sales and beneficial in legitimating the business and grabbing the most business. Due to this, we make it effortless to get a high-risk merchant account for high-risk businesses and personalize it to meet your business's payment requirements.
WebPays has An Extensive Network With Numerous Acquiring Banks
We have associations with multiple acquiring banks and high-risk payment processors to deliver the best payment processing services for high-risk businesses. Furthermore, we always work hard to reduce payment delays or payment-stuck issues and serve your business for the long term by guiding you through the entire procedure.
WebPays assures top-level security
You will get assurance for top-level security of online transactions via these security features: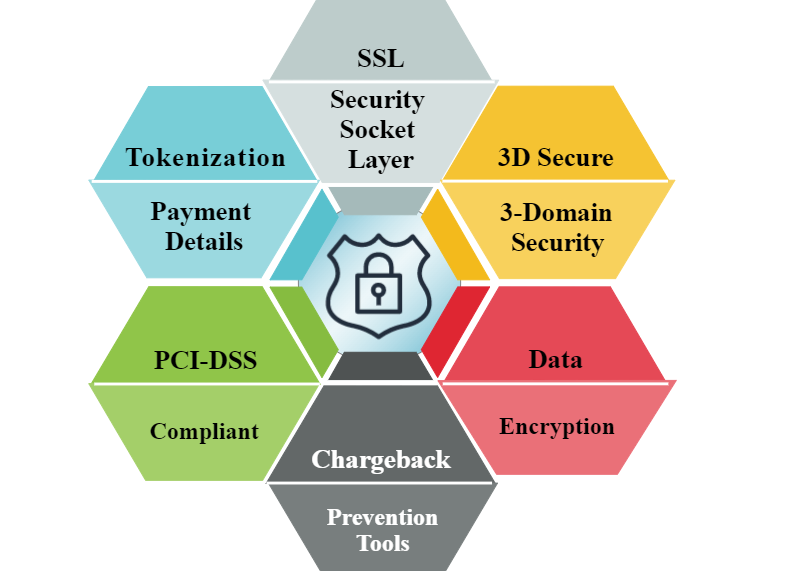 We Have An Expanded Approval Ratio
Our main objective is to support high-risk businesses to achieve business goals in the marketplace. When others reject we deliver payment services with a 98% approval ratio for high-risk payment gateway services. Yet, we always support you even if you do not have a perfect credit score or need some modifications.
We Deliver Universal High-Risk Merchant Account Solutions
With the help of our high-risk payment gateway solution, online merchants can easily process online transactions regardless of their business type. We also serve payment gateway services to eCommerce businesses with multiple benefits that can also provide your online business with an international boost.
Our high-risk merchant account services are not expensive
Other multiple payment processors charge too much for high-risk payment processing services basically because they are scared of the risk factors or inexperienced in supporting high-risk businesses. But at WebPays, we have been offering merchants the best costs for many years and we are glad to support businesses in achieving their income goals. Furthermore, you will get a wide range of acquiring banks for your online business to avoid payment-stuck issues.
By acquiring a high-risk merchant account solution with WebPays. You will also get reliable payment processing solutions in very affordable prices that can also help you in decreasing the risks associated with running an online business in a high-risk industry. Yet, we operate with numerous banks that allow us to acquire the best high-risk payment gateway solution for you and your online business requirements. You will just need to fill out an application form and get started with online payment processing.
At WebPays, our high-risk merchant accounts will be available for high-risk businesses with the 24*7 customer support you need to succeed so you can enjoy performing your high-risk business with reduced stress. Moreover, with the help of our chargeback prevention features, high-risk payment gateways, and 24*7 customer & technical support you can process all online transactions effortlessly. We also support our high-risk merchants with all their payment processing requirements. You can contact us now and enable us to establish your suitable high-risk merchant account now.
Prefer WebPays for the best high-risk merchant account solution
Preferring WebPays when you are operating a high-risk business, you will get complete support in establishing a high-risk merchant account solution. You can also acquire an expert payment processing platform at affordable prices. We also provide online businesses with secure and reliable credit card processing services to take credit card payments online. So, WebPays delivers a quick and effortless way to get competitive business growth and expansion for future economic growth. Contact us now and speak to our payment expert team for further details of this payment solution and the other ingenious payment processing solutions we offer to understand how we can assist you in getting a suitable payment gateway solution. Moreover, we can also assist your business in expanding globally and customer base that can lead to enhanced customer faith. You can also experience increased business potential and revenue.
Drop us a mail with your business details and requirements for further information and ask for a merchant account quote. Our payment expert team will get in touch with you shortly to discuss your business requirements and offer a reliable payment processing platform for your online business.
Fulfilling our merchant's payment requirements is our top priority. Our merchant's satisfaction inspires us a lot.
Frequently Asked Questions (FAQs)
1. What should you look for in your preferred high-risk merchant account provider?
When you are preferring a high-risk merchant account provider, you will need to ensure that your selected payment processor serves your type of business because most merchant service providers specified in the high-risk category don't serve all types of businesses. Also, you will require to pay attention to the pricing structure of your choice of payment gateway platforms. Because most payment service providers have some hidden costs that lead to more increased charges.
Finally, you must look for excellent customer & technical support which is available 24*7. Because if you face any payment-related issue during the processing of payments online and there will be no one to assist you in fixing the issue. It may lead to losing sales and customers' trust also. And WebPays will be the best option as we offer all these benefits. And we also support your business in expanding globally and increasing your business revenue.
2. Who delivers the best high-risk merchant account globally?
Without thinking twice, we can say WebPays delivers the best high-risk merchant account platform globally. Because we have many years of experience in serving high-risk businesses. So, we completely understand all the aspects of high-risk businesses and that is the reason we can offer our payment processing services without facing any complications.
Moreover, WebPays is an international payment service provider with multiple benefits such as numerous payment methods, multi-currency payments, advanced security features, chargeback prevention tools, global expansion, and 24*7 customer support at very affordable prices.
3. Why do some online businesses require high-risk merchant account?
Banks and payment processors have their own set of criteria to specify high-risk businesses. But most payment processors mark a merchant high-risk if they face a more increased possibility of fraud, chargebacks, refunds, global services, and a large volume of transactions. High-risk merchants need to pay higher fees as compared to low-risk merchants. So, all these factors can label a merchant as high-risk and make the requirement of a high-risk merchant account quite significant.
4. What are the benefits you can acquire with WebPays high-risk merchant account services?
By opting for a high-risk merchant account through WebPays, you can get multiple benefits for your online business comprising:
Global Presence: You will get the ability to expand your online business globally. And also enhance your business's global presence.
Various Payment Methods: You will get multiple payment methods to enable your customers to pay via different payment methods conveniently and expand your client base.
Multi-Currency Transactions: You will get the support of multi-currency payments. So, that your global customers can pay in their desired currency.
Recurring-based Payments: We will also deliver the service of recurring-based payments. So you can deal with subscription-based services.