If you are exploring online gambling payment processing providers delivering a complete suite of online gambling payment services and substantial experience and knowledge in the gambling industry, then you are at the right place.
Through reliable gambling-acquiring associates, we deliver you everything you require to receive and process credit card payments and pay out winning rewards smoothly and safely. Our full-featured reliable gambling payment gateway integration services are also completely customizable. And they have been ideal to provide significance and boost to your gambling business. Moreover, you can take credit and debit card payments securely and efficiently, process recurring and extended payments, handle refunds, and pay out winning amounts in easily accessible and tailored platforms.
Our payment gateway for online gambling businesses is the most suitable option for merchants who have a gambling license and can be able to run a gambling business online with all the terms and conditions and gambling laws.
What is a Gambling Merchant Account?
As online gambling businesses are considered a high-risk industry by most standard banks and payment processors. So, merchants will frequently need a specific payment gateway for online casinos that are developed to function with an excessive amount of chargebacks and large volume transactions. However, a payment gateway for online gambling is a reliable business bank account that enables fast and smooth online payments when functioning in a high-risk industry. The payment industry may also state these sorts of accounts as casino merchant accounts or betting gaming merchant accounts. But actually, these are basically similar things. As business structures differ in the online gambling sector, these sorts of merchant accounts can frequently be customized and established as per the business requirements.
What sorts of businesses require an Online Gambling Payment Processing Solution?
There are different sorts of online gambling and casino businesses that run within the online gambling sector. So, let's discuss some primary types of them:
Online casinos
Online poker
Small lottery syndicates
Sportsbooks & sports betting
Online bingo & raffles
Horse racing
Prize draws
Mobile gaming and gambling
Social gaming
iGaming
and many more…
What drives online gambling payment processing accounts high-risk?
Online gambling payment platforms are scented as a high-risk industry by the bulk of traditional card and bank providers as there are more elevated risks and are considered for high-risk.
Online gambling is also perceived high-risk industry by the majority of conventional card and bank providers as there is increased risk and legitimacies for standard banks. So, here are the primary causes why online casino payment gateways are considered high risk:
The bulk of businesses within the online gambling industry is legal and compliant. Even, though there are more pressures within the industry for online businesses to be more translucent than many other industries. Regardless, there are unfortunately various businesses that use the gambling sector for illegal incomes, such as money laundering and unlawful fund transfers. Furthermore, the industry's tainted image is also implemented by the fact that most online gambling businesses are based globally, a factor that increases suspicions for standard lenders.
Deficiency of payment processing and credit history
The advancement in online gambling has led to the appearance of many new businesses exploring to establish and get implicated. Though they lead to having little to no payment processing and credit history at this earlier stage. However, this is an automated red signal for standard lenders. As they have no prior history to find out if these new businesses are able to reimburse their loans.
As an outcome of the frequent transformation of funds between gambling merchants and customers (with gambling won and defeat frequently), online gambling businesses usually acquire a high volume revenue rate. So, most banks and standard lenders lead to more risk cautiousness, indicating it's unlikely they'd deliver credit card processing services to merchants in the online gambling industry because of the instability.
Fragile products or services
Fragile products and services are referred to as riskier assets. Because they led to allure more increased possibilities for chargebacks and refunds. This is specifically prevailing with online gambling and casino platforms as there are more small payment processing amounts, expanding the possibilities of chargebacks.
More increased chargeback ratio
Credit card processing services businesses are subject to setting a limit on a business's chargeback volume before quitting their account. Usually, the limit is 3% or lower (in some cases it can be not more than 2%). So, when an online gambling business's chargeback ratio surpasses this particular amount. Its payment processing account is also at the stake of termination, as the credit card service provider would not need to conceal any balances the gambling website could not pay for.
WebPay's gambling payment processing platform offers various significant benefits
With many promising features and flexible infrastructure, you can depend on our best payment gateway for online gambling websites. And concentrate on what's essential for your gambling business. You can also provide your customers with the best possible casino payment processing experience.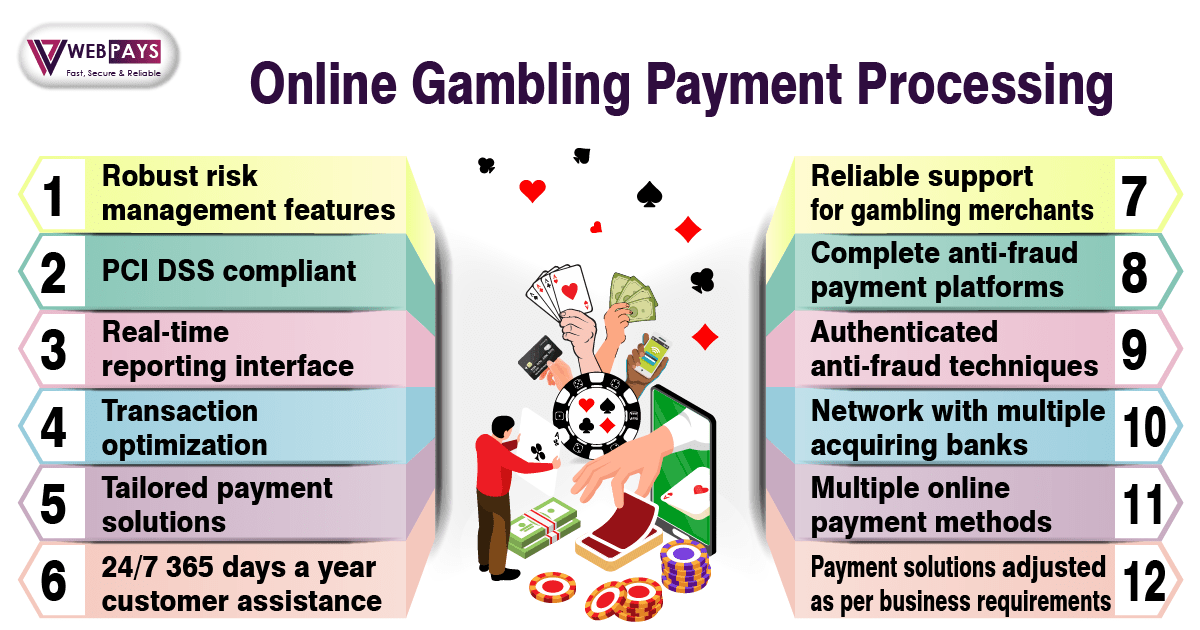 Why WebPays?
Associating with the leading payment solution provider for online casinos globally such as WebPays, you can be able to process all your payments securely that your customers performed via different payment methods. Furthermore, our dedicated payment expert team delivers the most suitable payment processing platforms for you and your customers. At our payment processing platform, your customers from around the world can also experience effortless online gambling payment processing with highly secured transaction details. So, you can apply for an online gambling payment gateway Europe by just filling out an application form. Or you can also send your query via mail. Our payment service provider team will connect with you shortly and assist you properly.